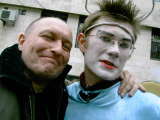 NEMO wurde als einziger europäischer Pantomime zum Festival MIMOLET 2004 in die westsibirische Stadt Tyumen eingeladen.
Zu Beginn des Festivals gab NEMO einen dreistündigen Workshop "Kreativlaboratorium" für russische Pantomimenkollegen.
Am letzten Tag trat NEMO mit einem 90-minütigen Soloprogramm auf und erhielt dafür den Sonderpreis des Festivals.
NEMO was invited as the only European mime artist to the Mime Festival "MIMOLET 2004" in Tyumen, Western Siberia, Russia.
First NEMO did a three hours workshop "Kreativlaboratory" for for mime artist friends from Russia and other countries.
Lst day NEMO presented an 80 minutes Solo Performance and received herefor the Special Price of the Festival.